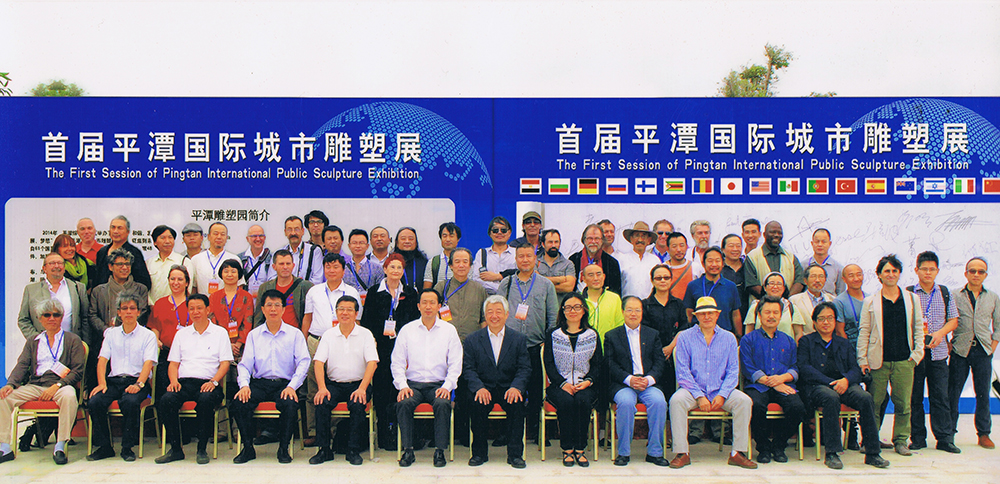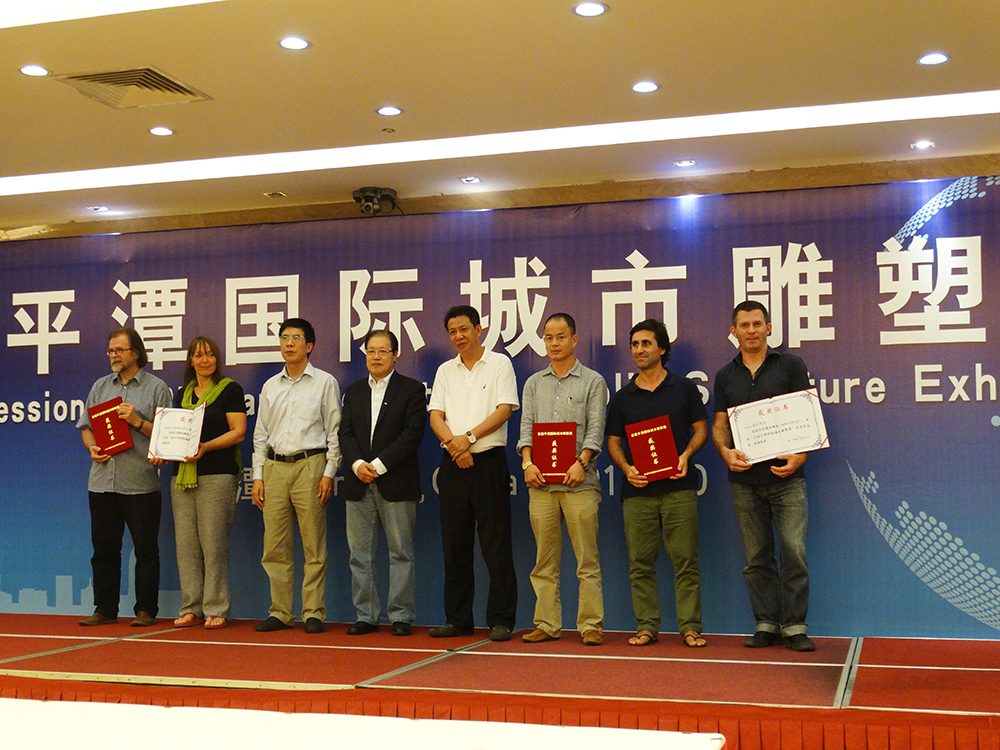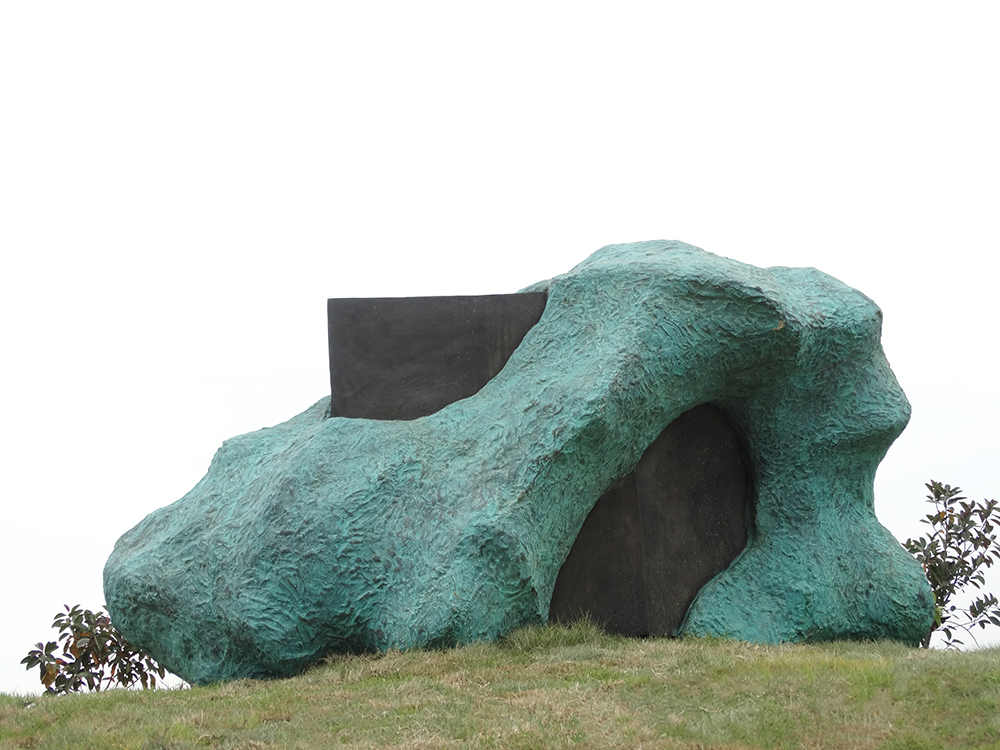 (EN)
Thierry Ferreira, Between sculpture and thought
Thierry Ferreira has just returned from Pingtan (Fujian Province, China), where he participated in the commemorations of the inauguration on 11 October of the International Sculpture Exhibition Park of the city, which includes a bronze replica of the sculpture of his own

, "Cubic".


His work reveals a reflection on contemporary public art, confronting it with the history of art.

Thierry Ferreira describes this work as "a contrariness of the trend of vertical sculpture, which exhausts the idea of three dimensions and can therefore be placed in any position, thus forcing the viewer to feel the need to visualize all the faces of the sculpture.

More than a political instrument, sculpture is thought. "
Thierry Ferreira was invited by the Chinese sculptor and curator Liu Yang after the two sculptors participated in an artistic residence in Bento Gonçalves, Brazil, in the year 2012, where there was an exchange of ideas about public sculpture.


Under the theme "Harmony, Development and Dream", the Pingtan International Sculpture Exhibition Park is part of an urban development project, stretching over a kilometer along the shore of Lake Zhuyu, boasting 48 replicas of works by renowned sculptors and

artists from all over the world, built in different materials, such as: stone, stainless steel, bronze and fiber.

The project took place in several phases: the first started in April 2013, with the production and delivery of a model to China;

followed by the production of the model and the foundry, with continuous monitoring of the process through videoconference, and finally, the inauguration of the sculpture park.


The International Sculpture Exhibition Park of Pingtan was born under the guidance of the Cabinet of the National Committee for Public Sculpture Guidance with the aim of being a space for dialogue and confrontation of various artistic trends, local and foreign, for the dissemination of contemporary art and

the role of public art.
(PT)
Thierry Ferreira, Entre a escultura e o pensamento.
Thierry Ferreira, Entre a escultura e o pensamento
Thierry Ferreira acaba de regressar de Pingtan (Província de Fujian, China), onde participou nas comemorações da inauguração, no passado dia 11 de Outubro, do Parque de Exposição Internacional de Escultura da cidade, que integra uma réplica em bronze da escultura de sua autoria, "Cubic".
A sua obra revela uma reflexão sobre a arte pública contemporânea, confrontando-a com a história da arte. Thierry Ferreira descreve esta obra como «contrariedade da tendência da escultura vertical, que potencia à exaustão a ideia de três dimensões, podendo por isso ser colocada em qualquer posição, forçando assim o espectador a sentir necessidade de visualizar todas as faces da escultura. Mais do que um instrumento político, a escultura é pensamento».
Thierry Ferreira foi convidado pelo escultor chinês e comissário do evento, Liu Yang, após a participação dos dois escultores numa residência artística, em Bento Gonçalves, Brasil, no ano de 2012, onde houve uma troca de ideias sobre escultura pública.
Sob o tema "Harmonia, Desenvolvimento e Sonho", o Parque de Exposição Internacional de Escultura de Pingtan integra um projecto urbanístico, que se estende num percurso de um quilómetro, à beira do Lago Zhuyu, ostentando 48 réplicas de obras de escultores de renome e artistas de todo o mundo, construídas em diferentes materiais, tais como: pedra, aço inoxidável, bronze e fibra. O projecto decorreu em diversas fases: a primeira iniciou-se em Abril de 2013, com a realização e o envio de uma maquete para a China; seguiu-se a produção do modelo e da fundição, com acompanhamento contínuo do processo através de videoconferência, e por fim, a inauguração do parque de escultura.
O Parque de Exposição Internacional de Escultura de Pingtan, nasceu sob a orientação do Gabinete do Nacional Comité Orientador Escultura Pública com o objectivo de ser um espaço de diálogo e de confronto de várias correntes artísticas, locais e estrangeiras, de divulgação da arte contemporânea e de debate do papel da arte pública.