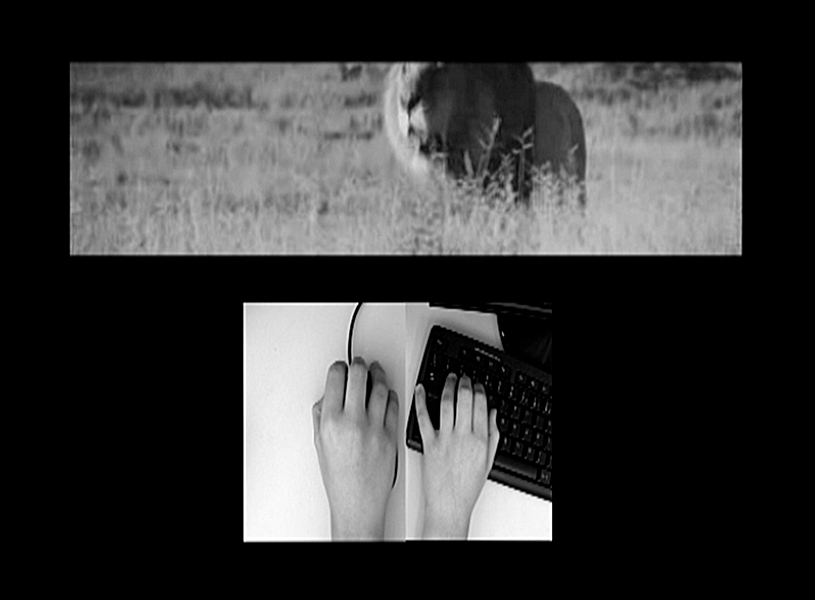 Schizophrenia#2
(EN)
"Schizophrenia#2" is part of a set of works made around the issues of "man" and "technology". In this particular case it is a work of moving images through which the artist intends to make the viewer question him/herself about the relationship between man and technology. We live in a markedly technological era, enveloped in large economic interests. On the one hand it is synonymous with progress, showing all the creativity and ingenuity of man, but on the other hand, it generates social exclusion as soon as it has a closing effect on the individual user of the technology.
Does technology override the nature of the one who uses it?
Synopsis:
This work of moving images is composed of two quite distinct planes. The first plane is situated at the top of the general plane and presents itself as a horizontal bar, where we can see a panoramic scene of an encounter between a lioness and a lion on the savannah. The second plane shows us two hands, one using a computer mouse and the other a keyboard. At some point we may think there is a direct relationship between these two planes, but their altered speeds lead us to verify that they represent two very different universes where the beauty and harmony of nature contrasts with the mechanical and sickly movements of the hands. These images are accompanied by an unsettling sound.
"Schizophrenia#2"; Video (Portugal 2012; Full HD; Pal; Color; Sound; 3'12''; Transferred onto DVD).
(PT)
"Schizophrenia 2" faz parte de um conjunto de obras realizadas em torno das questões "homem" e "tecnologia". Neste caso em concreto trata-se de uma obra de imagens em movimento através da qual o artista pretende levar o espectador a questionar-se sobre a relação do homem com a tecnologia. Vivemos uma era marcadamente tecnológica, envolta em grandes interesses económicos. Por um lado é sinónima de progresso, demonstrando toda a capacidade criativa e de engenho do homem, mas, por outro lado, gera exclusão social assim que tem um efeito de fechamento sobre o indivíduo utilizador da tecnologia.
Será que a tecnologia anula a natureza daquele que a utiliza?
Sinopse:
Esta obra de imagens em movimento "Schizophrenia 2" é composta por dois planos bem distintos. O primeiro plano situa-se na parte superior do plano geral e apresenta-se como uma barra horizontal, onde podemos visualizar uma cena panorâmica de um encontro entre uma leoa e um leão na savana. O segundo plano é composto por duas mãos, uma está a utilizar um rato de computador a outra um teclado. A certa altura podemos pensar que há uma relação direta entre estes dois planos, mas a velocidade alterada dos mesmos leva-nos a verificar que representam dois universos bem distintos onde a beleza e harmonia da natureza contrasta com os movimentos mecânicos e doentios das mãos. Estas imagens são acompanhadas por um som inquietante.
"Schizophrenia 2"; Video (Portugal 2012; Full HD; Pal; Color; Son; 3'12''; Transferred onto DVD).
(FR)
"Schizophrénie 2" fait partie d'un ensemble de travaux réalisés autour des questions de «l'homme» et la «technologie». Dans ce cas particulier, il s'agit d'une ouvre d'images en mouvement à travers lequel l'artiste a l'intention d'emmener le spectateur à s'interroger sur la relation entre l'homme et de la technologie.
Nous vivons dans une ère marquée para la technologie qui d'une part est synonyme de progrès, démontrant toute la capacité créativité de l'homme, mais, d'autre part il génère l'exclusion sociale ainsi qu'un effet de cloisonnement sur l'utilisateur individuel de ces technologies.
Est-ce-que la technologie annule la nature de celui qui l'utilise?
Synopsis:
"Schizophrénie 2″; Vidéo (Portugal 2012, Full HD, PAL, couleur, Fils, 3'12"; transféré sur DVD).
Ce travail d'images en mouvement "Schizophrénie 2" se compose de deux plans distincts. Le premier plan se situé sur la partie supérieur du plan général se présentant comme une barre horizontale, où l'on peut voir une scène panoramique d'une rencontre entre une lionne et un lion dans la savane. Le deuxième plan est composé de deux mains, l'une utilisant une souris d'ordinateur autre un clavier.
À un certain moment, nous pouvons imaginé qu'il existe une relation directe entre ces deux plans, mais la vitesse altéré des images nous amène à vérifier qu'il représentent deux univers très différents où la beauté et l'harmonie de la nature contraste avec les mouvements mécaniques des mains. Ces images sont accompagnées d'une bande sonore inquiétant.